Vegetable Stuffing
We used Local Roots' delicious veggies plus Yondu & water as a sub for an instant, umami-rich broth. Completely plant-rich and completely delicious!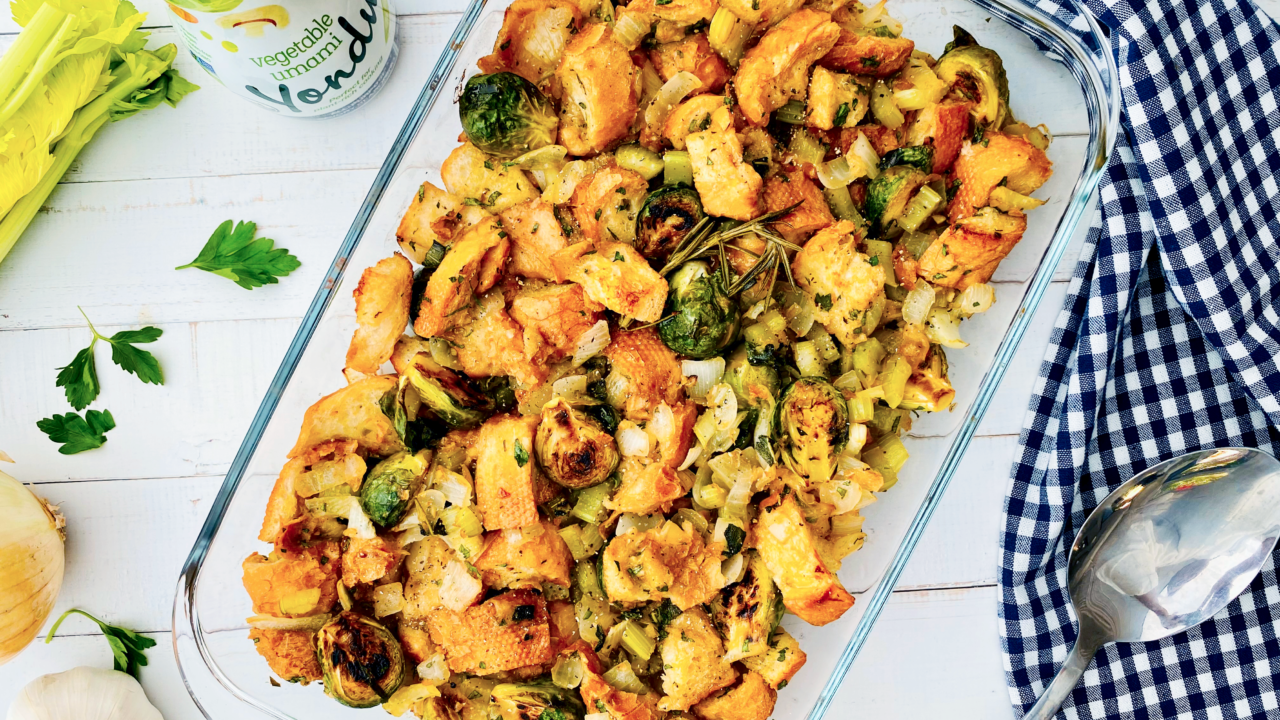 1 loaf soft French bread, diced (10 oz.)

2 Tbsp Olive oil

10 oz. Brussels sprouts, halved

1 onion, chopped

3 celery stalks, chopped

2 garlic cloves, minced

Herb trio: 1 Tbsp chopped fresh sage, 2 Tbsp chopped parsley, 1 sprig rosemary

2 Tbsp Yondu
Method
Special Offer! Local Roots NYC Harvest Club members can purchase Yondu as an "add-on" to their weekly share of groceries. Use code "FASTFLAVOR" for 20% off Yondu!

1. Preheat oven to 350 F.

2. Lightly toast bread cubes on a sheet tray until almost golden.

3. In a large pot over high heat, add 1 Tbsp. olive oil and Brussels sprouts and cook for 3 mins until slightly charred; reserve.

4. In the same pot, lower heat and add onion, celery and garlic. Cook for 5-7 mins, until onion is translucent. Stir in the herb trio.

5. Add Yondu and 2 cups of water. Then add reserved Brussels sprouts and bread. Mix everything so that the bread is evenly moistened.

6. Pour stuffing into a baking dish and cook for 40 mins in the oven (without stirring), until the stuffing is golden & crunchy on the top, and softer in the center.

7. Serve with a glug of olive oil and freshly ground pepper (optional).
You may also like