Easiest Veggie Pho
Inspired by the classic, with no meat or fish sauce... but with tons of deep flavor!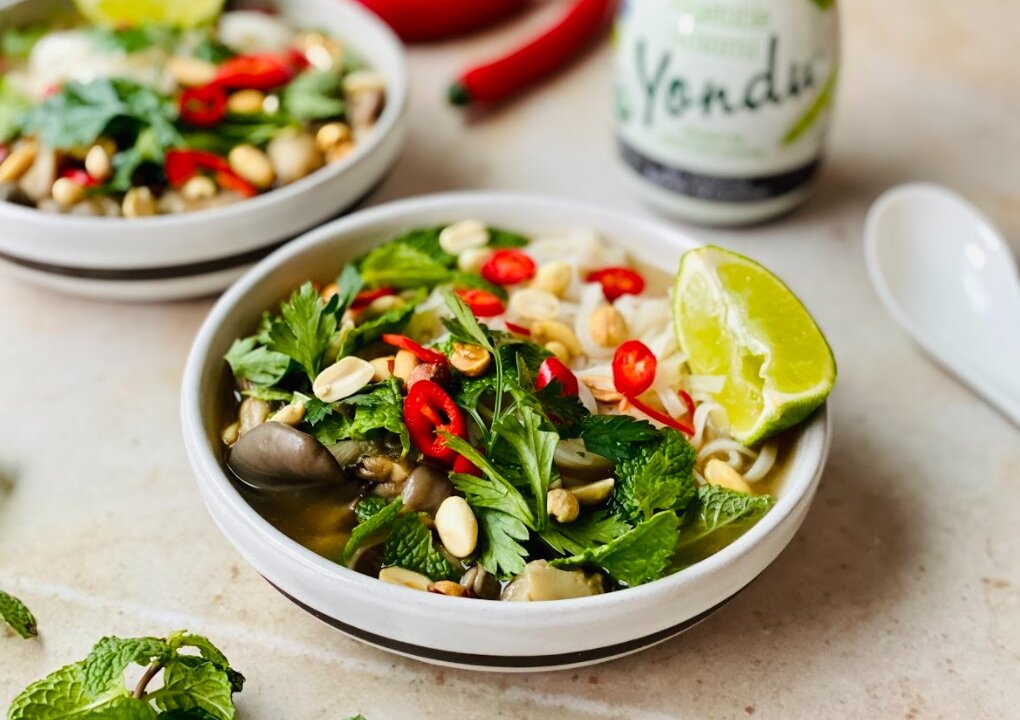 6 oz. rice noodles

1 Tbsp. vegetable oil

½ onion, cut into thick slices

2 oz. fresh ginger cut in half

1 Tbsp. coriander seeds

1 star anise

1 stick cinnamon

4 cups water

3 Tbsp. Yondu

1 Tbsp. sugar

5 oz. oyster mushroom into small pieces

To serve:

1 lime, 1 fresh chili, 2 Tbsp roasted and salted peanuts, fresh mint, fresh parsley
Method
1. Cook rice noodles following the instructions on the package.

2. In a pot over high heat add vegetable oil, onion slices and ginger chunks and char both sides until dark brown for about 3 minutes.

3. Add coriander, star anise and cinnamon and quickly cover with water to avoid spices to get burned. Add Yondu and sugar. Simmer for 10 minutes

4. Add mushrooms to the broth and simmer for 5 more minutes. You can dive the mushrooms into the broth using a colander to avoid mixing with the other ingredients and spices.

5. Pass the broth through a sieve and reserve.

6. Put the cooked noodles in a bowl and top with the mushrooms, fresh mint and parsley leaves, some peanuts and sliced red chili. Pour in the Pho broth and serve with a slice of lime to squeeze in at the table.




Notes/tips:


Add a few extra drops of Yondu once served if you want an even more delicious flavor!
You may also like