Event Details
Learn how to meal prep delicious vegetarian dishes featuring Yondu with Talia Koren, founder of Workweek Lunch!
Meal prep doesn't have to be boring, bland or take up your whole weekend. Join Talia Koren of Workweek Lunch in this hands-on cooking class where you'll learn how to meal prep entrees you'll actually look forward to eating!
Host Talia will teach you how to make three fast, easy and delicious vegetarian meals from start to finish featuring Yondu's savory seasoning. At the end of the class, you'll take home the recipes, a step-by-step meal planning guide complete with grocery list AND samples from the meals we make — if there are any left!
What to expect:
A vegetarian meal prep workshop for 4-12 guests
Learn the basic of meal prepping and how to use Yondu's savory seasoning
Take away recipes, guides, and much more to help boost your cooking regimen at home
On the menu:
Better-Than-Takeout Pad Thai With Tofu
Vegetarian Spaghetti Bolognese
Coconut Lentil Curry With Cauliflower, Carrots & Spinach
*We will be using products containing soy, gluten, dairy and possibly peanuts.

About Workweek Lunch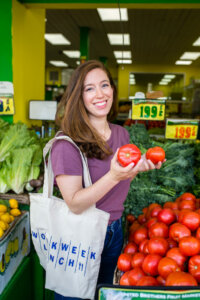 Workweek Lunch is a meal plan subscription and food blog that helps thousands of people all over the world save time and money while prepping healthy home-cooked food. Talia is a self-taught home cook, has taught classes at Home Cooking NY and she's written and tested over 300 recipes for meal prep. You will often find Talia going live on Instagram while she cooks as she loves to share the experience with her 400,000 followers.
Sign-up coming soon so check back!